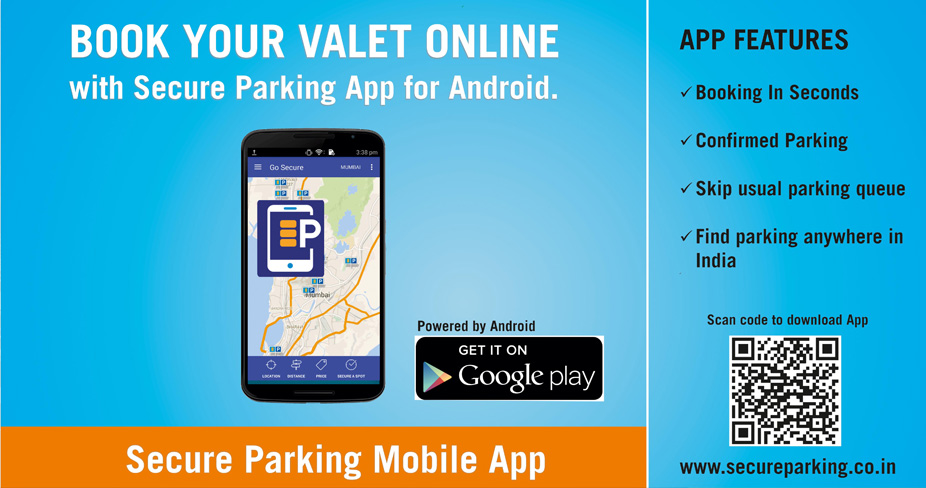 Parking made easy with Secure Parking App
Find your favourite parking and book in advance with the new Secure Parking App available for Android users.

It is needless to say that finding a parking spot can sometimes get too frustrating. In one of the most fastest developing countires like India, the amount of vehicle owners who use valet services are increasing and so, is the queue outside a mall. This is where our online valet booking can help you. Booking online via our website or app gives you the privellage of having your car picked-up by our valet parking attendant even before you enter the mall. All you have to do is reach your preferred Secure Parking location and give us a call. To see our list of pre-booking available parking spots, click here.

Secure Parking takes away this stress of having to wait in the long queue and helps you get your car picked in just no time at all. Our pre-booking service allows you to book at standard parking rates without paying any additional cost.

Download our mobile app from google play store and be guided to the nearest available car park managed by Secure Parking. You can even prebook for the valet service upto two days in advance. We assure you the best of support and a hassle free experience. Happy Parking!

Book Now! via website, click here
To book via App, click here (Curerntly available only for Android users)
Secure Parking App Benefits that you didn't know.

FREE Club Secure membership.
Pre book a Valet at your favorite Secure Parking spot across India.
Online payment via Credit / Debit or Paytm.
Priority Pickup ! Get immediate pick-up the moment you enter the parking queue.
View your booking history through our specialised parking dashboard.
Instant confirmation-on-call post booking.
SMS reminders and alerts for your next booking.

Terms & Conditions

Online booking will be available only for valet service and not for casual parking.
Booking cancellation can be done upto 1 hour prior to entry time with a service charge of 7.5% applicable on refund.
Payment made for booking online cannot be replaced by causal parking. (Ex. a customer who has booked valet online cannot avail the service if he/she has parked the vehicle by self). In such case, no refund can be obtained.

For any other queries, kindly email to customercare@secureparking.co.in OR Call our assistance at 022 61393400.