Comparative Matrix Of Different Types Of MLCPs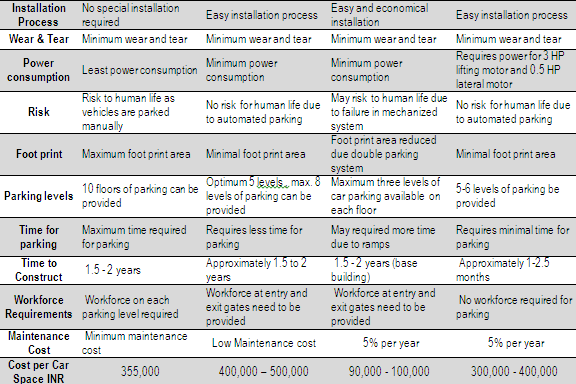 Multi-Level Car Parking Initiatives in India
New Delhi Municipal Council: A modern integrated multi-level car parking complex was recently opened in the busy Sarojini Nagar area to decongest this popular marketplace. This project is to be developed by DLF for New Delhi Municipal Council (NDMC). The parking would accommodate 824 vehicles at an investment of INR 80 crore on a Built-Operate-Transfer basis. Similar car parking facilities are being planned at Baba Kharag Singh Marg and Kasturba Gandhi Marg.
Municipal Corporation of Delhi: A fully automated multi-level car parking complex is planned at Mandalia Chowk in Kamla Nagar. The parking complex is planned to accommodate 828 cars and 300 two-wheelers and will be constructed by the Municipal Corporation of Delhi at a cost of INR 110 crore within a period of two years. The MCD has identified 24 sites that will be developed into parking sites at Lajpat Nagar, Rani Bagh, Greater Kailash-I, Defence Colony, Karol Bagh, South Extension, Mori Gate, Greater Kailash-II, Qutub Road and Rajouri Garden.
Delhi Development Authority (DDA) has already invited tenders for nine plots to build multi-level parking lots in the Capital. These plots will be developed on a Public Private Partnership (PPP) basis similar to the model followed by the agency for its Nehru Place multi-level parking lot. The parking lots, which will have anywhere between three to seven levels depending on size and location, will be built at community centres or district centres in Dwarka, Janakpuri, Hari Nagar, Wazirpur, Okhla, Motia Khan, Mayur Place and Yamuna Vihar.
Navi Mumbai Municipal Corporation has planned to set up a multilevel car parking system at Vashi, Navi Mumbai, Maharashtra at two locations – Sector 17 and near the Civic Hospital – with a project cost of INR 10 crore. The car parking system will have two 11-storey tower car parks for accommodating 22 cars each and a three-level puzzle park for 43 cars. At Vashi Civic Hospital, there will be three 11-storey towers accommodating 22 cars each and a 7-storey puzzle car park for 110 cars. The total parking capacity will be 263 cars. In the tower system, a lift ferries cars to a height and parks them. In the puzzle system, which is wider than taller, cars are fitted into various vacant slots. Seven more mechanized car parks have been planned for; five of the multi-level lots will follow the tower system and two the puzzle system.
Ahmedabad Municipal Corporation: Kolkata-based Simplex Projects Ltd has received offers to set up an automated multi-level car park here. Simplex Projects has to its credit the country's first multi-level car parking system Parkomat at New Market in Kolkata. The design and technology for car parking systems are acquired from Netherlands, Italy, Switzerland and Korea and are usually assigned projects on a built-own-operate-transfer basis.
Bangalore Mahanagar Palika is planning to construct five new multi-level car-parking complexes over the current year, 2014 at an estimated cost of INR 20 crore. Around 15 such new car-parking complexes will be built at an estimated cost of INR 60 crore. Car parking complexes have been planned in various parts of the city such as M.G. Road, Commercial Street, Shivaji Nagar, K.G. Road, Gandhi Nagar, K.R. Market, Mysore Road, Jayanagar Shopping Complex, Malleswaram and Seshadripuram. The BMP has already taken steps to construct three multi-level car-parking complexes on J.C. Road, Kempegowda Road and Magarath Road.
Hyderabad Urban Development Authority (HUDA) is planning a multi-level car parking complex in private partnership, close to the NTR Garden on the Buddha Purnima Road. An extent of 2.5 acres of area has been earmarked for the complex that would accommodate about 1,000 cars, besides 500 two wheelers.
Kolkata Municipal Corporation has been tying up with private companies to venture into automated MLCP in the city where there is immense space and parking crunch.
Conclusion
International case studies prove that providing innovative solutions to parking problems and introducing mass transit systems do a lot more than just solve traffic problems. Such solutions also result in increased real estate values in a city, since consumers are willing to pay more for the convenience.
One method of addressing the escalating shortage of parking spaces in shopping areas would be to restrict parking at few locations and imposing heavy parking fees. This would go a long way in creating space availability, making the pathways outside malls more pedestrian friendly and generally enhancing the livability of the city's urban environment.
Automated multilevel car parking facilities at important locations are also a viable way of addressing parking requirements. They can contribute significantly in reducing traffic congestion. These should ideally be developed near public transit points, within walking distance of key destinations. International property consultancy JLL is now actively advising many city authorities and developers on such solutions. MLCPs are now being implemented on a Design, Build, Operate and Transfer model via Public Private Partnerships.
In order to make such projects financially viable, the Strategic Consulting division at JLL India suggests that certain portions of the development be laid open for commercial exploitation. Incentives such as additional FSI and a revision in existing parking fees need to be offered to private developers in order to increase their interest levels in participating in MLCP projects.
There is definitely scope for making these developments, which should now qualify as vital infrastructure, more popular. The concerned authorities need to impose strict penalties on owners of commercial buildings who do not provide adequate parking facilities. At the same time, more FSI could be offered to developers for new developments in certain locations if they contribute free parking spaces.
Meanwhile, the recent introduction of automated parking meters in four of Chennai's key locations has the potential for introducing a new dimension of parking discipline. However, there is still a general lack of awareness about these parking meters and the purpose they serve. Along with awareness and compliance enforcement, the number of such meters also needs to be increased in various commercial areas of major cities.
Above all, policy reforms and their implementation are the most effective tools in providing efficient parking solutions and management. In the long run, citizens will need to revise their perceptions about the use of private vehicles and exhibit an increasing preference for public transportation.