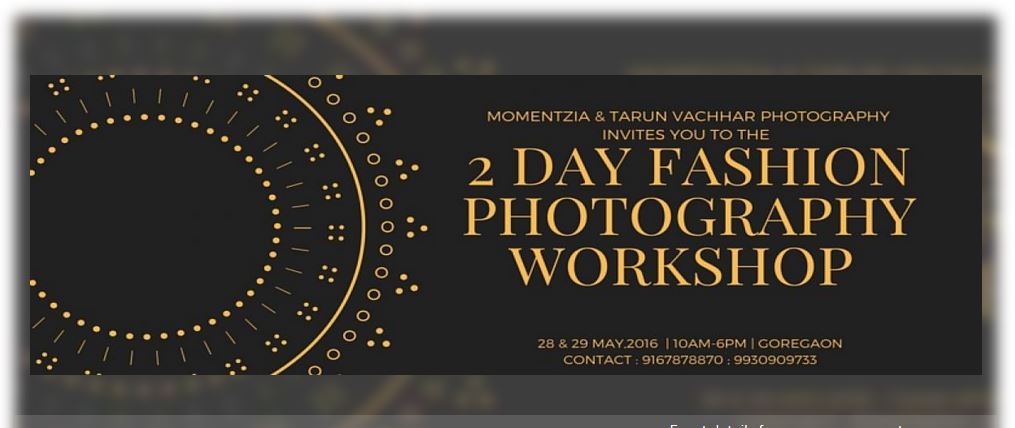 Fashion Photography Workshop by Tarun Vachhar- Oberoi Mall
A Fashion Photography Workshop by Tarun Vachhar
Fashion Photography is one of the most glamorous and lucrative career options in the world of photography. The creative side of the photographer gives them immense opportunity to produce imaginative and eye-catching images that advertise clothes, accessories and lifestyle.
Fashion photographs are commissioned for a variety of publications including catalogues, websites and fashion magazines, hence giving enough space for innovation and originality.
The above mentioned workshop is a two day program. The topics that would be covered are as follows:
DAY 1
Introduction
Basic of Photography
Exposures (Shutter Speed, Focusing Speed, Apertures, Techniques, White Balance)
Setting up a Studio
Introduction to Studio & Lights
Lighting and Modifier Equipments
Different types of Lighting
Workflow
How to quote a client
DAY 2
Practical experience of shooting with an agency based international model & a professional team.
High Fashion shooting on your own ( 1:1 shoot experience)
Re-touching and editing of your pictures.
Build your portfolio
Photographer's Profile:
Tarun Vachhar is a Mumbai based Fashion and Advertising photographer with experience of more than 5 years.
You can view his work profile on www.tarunvachhar.com
Date: 28th & 29th May, 2016 (10:00 A.M. – 6:00 P.M.). Students are requested to come fifteen minutes in advance.
Venue Details : A211, Virwani Industrial Estate, Opposite Oberoi Mall, Goregaon East, Mumbai.
Fees: Rs. 7,500 only (Includes Educations Fees, Indoor Practical's and Tea & Coffee)
** Rs. 2,500 needs to deposited at the time of registration to confirm your seats. The remaining amount of Rs 5,000 can be paid on the first day of the workshop. No amount shall be refunded after the registration.
Visit event page: https://www.eventshigh.com/detail/Mumbai/432f326af61578a17e5266d74d05357e-fashion-photography-workshop-by-tarun?src=ecbox