As a commercial or retail parking operator we strive to maximize parking occupancy while at the same time reducing congestion and pollution. It is essential that customers can get out of the car and into the shopping centre quickly.

With over 40 years of experience in the car park management and operations, we have learned to use flexibility and technology to improve efficiency. By combining localized and standard operating procedures, a customized operational solution is developed for each site, addressing its unique features and requirements.
Worldwide, our approach and experience has given us a deep understanding of the individual needs of each property we operate. This enables us to tailor unique and effective parking solutions specifically for each car park. In India, we are associated with major builders and developers which includes DLF, Pacific, Oberoi malls, Virtuous Retail, Brigade, Prestige, Phoenix Market City, Inorbit malls, Nexus, Lulu, RMZ, Embassy etc.
Customer Service
Customer service is the most important aspect of parking management and remains critical to our success as a parking industry leader. The global experience of providing car parking management has empowered us to create a tailored approach in ensuring positive customer experience.
The fierce competition in the parking industry demands a high level of customer service. Our superior service delivery has helped to engender customer loyalty and brand recall. Secure encourages every employee to internalize this habit so that the same level of customer experience and service can be delivered across all car parks.
With our employees focused on these principles, Secure Parking has been awarded with the best employer award for the year 2019 by government of Maharashtra. The dedication and hard work of our employees in the parking operations and management have resulted in getting various awards and recognition from our clients. Some of the awards are for Best Agency of the Year by Viviana Mall, Oberoi Mall, Phoenix Group and many more.  
Uniforms and Grooming
The car park is the front door to the property. The first impression is formed here. Car park employees are brand ambassadors. Their appearance and grooming is extremely important. Great consideration is given to designing a functional an aesthetic uniform for parking personnel. It should be eye catching for safety. Car park managers, supervisors and valet staff have a different uniform from car park attendants and cashiers. Quality of uniforms, cleanliness, and appearance of staff is of paramount importance. Secure parking also provides summer and winter uniforms. Good uniforms engender positive body language.
Grooming also includes body language training. The staff is trained to be alert, attentive and proactive. They should not be on the mobile phone or talking to colleagues. Cashiers should be able to process a transaction within the mandated time frame.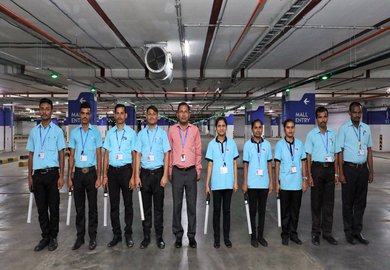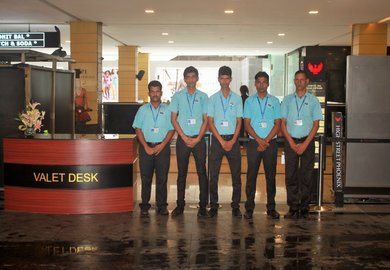 Valet Operations
The reasons for using a valet parking service are numerous. Not only will a valet parking service be convenient for customers, it will give an aura of high­ class style and glamour. This is a premium service and we do our best to put a smile on our customers face every time they visit the car park.  This is made possible by recruiting highly skilled and experienced drivers. Before joining, they undergo a series of tests conducted by a recognised driving school. This includes driving skill on luxury cars as well as behavioural attitudes.
Drivers also undergo security and police verification to ensure safety of customers including ladies, children and valuables in the car. We maintain a roster of drivers for weekends and festivals when the demand is more. The valet serviced is comprehensively insured against accidents, thefts and third part liability.
Secure Parking also has its own valet management software system. This helps to communicate and interact with the customer during his stay in the property, specially at the time of pick up and drop. The software also monitors handover time, driver productivity, revenue etc.
Secure Parking is currently managing and operating valet parking at several prestigious locations. These include shopping malls, 5-star hotels, private hospitals, financial centres and international airports.

Training
It is important to hire a person with the right aptitude, skill and attitude. Proper hiring, induction and robust training process are crucial to developing the right people, with the right competencies.
Secure Parking believes in upskilling its employees to promote internal growth. This helps in motivating employees, increasing productivity and reducing error at work.
The internal growth of employees is supported by an in-house career development program called 'Lakshya' which is divided in 5 stages - aptitude test, PI operations/ HR, classroom learning and on job training for 3 months, PI operations/ HR along with a written test with regards to the understanding of roles and responsibilities and 3 months as trainee supervisor.
It is also ensured that the training is aligned to role specific competencies which in turn helps in improved customer service. There are several success stories where a site level employee has been promoted to managerial position with internal training and development.
Training is the back bone of operations and utmost importance is given to it. This enables the teams to deliver the Wow factor to our valuable clients.