As a commercial or retail parking operator we strive to maximize parking occupancy while at the same time reducing congestion and pollution. It is essential that customers can get out of the car and into the shopping centre quickly.

With over 40 years of experience in the car park management and operations, we have learned to use flexibility and technology to improve efficiency. By combining localized and standard operating procedures, a customized operational solution is developed for each site, addressing its unique features and requirements.
Worldwide, our approach and experience has given us a deep understanding of the individual needs of each property we operate. This enables us to tailor unique and effective parking solutions specifically for each car park. In India, we are associated with major builders and developers which includes DLF, Pacific, Oberoi malls, Virtuous Retail, Brigade, Prestige, Phoenix Market City, Inorbit malls, Nexus, Lulu, RMZ, Embassy etc.
Customer Service
The essence of good customer service is forming a relationship with the customer - a relationship that an individual customer  feels that he would like to pursue. How do you go about forming such a relationship? By remembering the one true secret of  good customer service and acting accordingly; "You will be judged by what you do, not what you say". Customer service is a series of activities designed to enhance the level of customer satisfaction.
Uniforms and Grooming
Great consideration is given to designing a functional & Aesthetic uniform for parking personnel. It should be eye catching for safety. Car Park managers, supervisors and valet staff have a different uniform from car park attendants and cashiers. Quality of uniforms, cleanliness, and appearance of staff is of paramount importance. Secure parking also provides summer and winter uniforms. Good uniforms engender positive body language.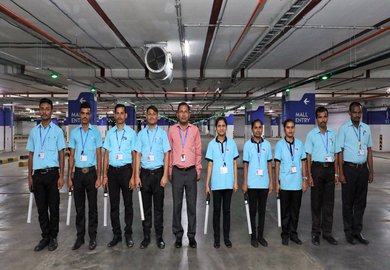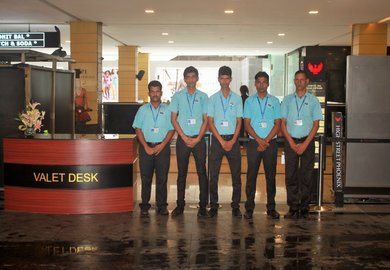 Valet Operations
The reasons for using a valet parking service are numerous. Not only will a valet parking service be convenient for your customers, it will give an aura of high­ class style and glamour. 
Secure Parking is currently managing and operating valet parking at several prestigious locations. These include shopping malls, 5 star hotels, private hospitals, financial centres and international airports. Over the years, Secure Parking has gained rich experience in Valet Management and Customer services. The "Valet Management" software has several unique features.

Training
As a service oriented organization, Secure Parking places major emphasis on the quality of its staff. Regular training seminars are conducted to improve the skills of its staff in all areas. Parking manager's meetings are frequently organized where all Secure Parking staff meet and socialize and share experiences. Management and supervisor's feedback on performance refresh the staff memories about operating procedures and put action plans for the future. In addition, Directors and Senior Managers are encouraged to attend international exhibitions, seminars and trade fairs.